PROGESTIA®, is a powerful multivitamin supplement that combines the proven power of micronutrients with fast-absorbing fatty acids to deliver enhanced nourishment.Iron, folate, and essential fatty acids round out this formula. To see what the science says about these ingredients, consult the chart below.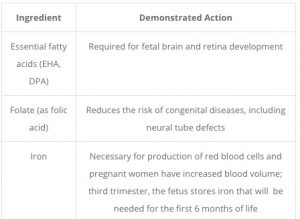 Authorized for sale by Health Canada. NPN: 80037185
Recommended Dose: 1 softgel per day
Before taking PROGESTIA® or any other supplement, make sure you consult with your physician. Your doctor can provide you with guidance and advice on taking this or any other supplement based upon your medical history and current prescription medication intake. This supplement is not intended to diagnose, treat, cure or prevent any diseases, illnesses or ailments.
Product may not be right for everyone. Be sure to read the label and follow directions for use.